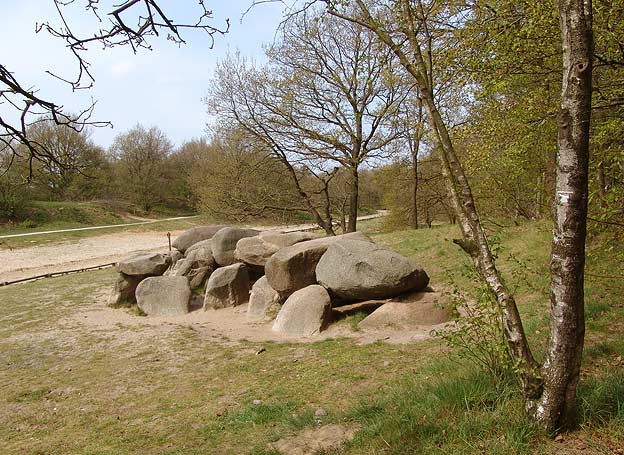 http://www.megalithicodyssey.com
https://www.facebook.com/groups/MegalithicOdyssey
GPS and Route
To get to the Dolmen D01 you can enter the best the following address into your navigation system.
Main road 43-51
9307 Steenbergen
(Municipality Noordenveld)
+ 53 ° 6 '17:40 ", 6 ° 24' 37.95"
Nearby stands a round stene wreath. Some people around there are of the opinion that it is a dolmen, but this is definitely not the case.
When you reach the fork is heaps, turn left and then you will necessarily be the sign dolmen.
The numbering of the hunebeds (D1, D2, etc.) was made by the late professor Van Giffen, an archaeologist of the Groningen University, who dedicated his career to make a comprehensive survey of all prehistoric monuments in the northern part of the country. The "D" stands for Drenthe and he numbered the hunebeds from north to south. The most northern, D1, is of medium size and situated near the village of Roden. It lies in an attractive scenery, on the slope of a small sand hill. It is pretty complete: all 6 capstones and 14 side- and endstones are present. Even the entrance with 4 passage sidestones and one capstone is complete.
At the time of the survey in 1918, D1 was a ruin. All capstones were fallen off and one capstone was broken into 5 pieces. Van Giffen cemented them together, erected tumbled sidestones and lifted the capstones onto their original position again. In March 1997 D1 was severely damaged by arson. The second capstone was split into pieces by the fire. At first sight the damage seemed to be unrepairable but after an investigation by experts an attempt to glue the parts together again was successful.
Dolmen at D1 Steenbergen
This fairly complete dolmen is on a hill next to a large dirt road. He is very accessible and is also next to a hiking trail. This is very unfortunate because it will quickly climb an object.
The dolmen is the most northerly in the province of Drenthe and therefore starts here census D1, also Drenthe1. The first thing you notice when you get to walk this is a very complete dolmen.
There are no bush stone longer present, but still all six slabs. The port is very visible as you can see in the photo.
What is also striking for this dolmen is that he is on a hill. It is a magnificent specimen. The colors of the stones combined with the surroundings are very beautiful. Definitely worth a visit.